Maximize your desktop office space with,
Spirit's Desktop Dividers VWB
Create private work spaces
Decrease distraction and noise
Tackable
Easily removable and relocatable for a versatile work space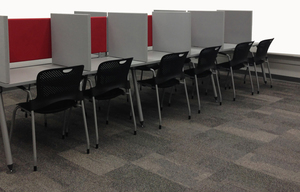 Sizing
Height and width built to order
Thickness – 3/8″, 1  1/4", 1  5/8" or  2  3/8" – built to specification if required
Divider Finishes
Fabric wrapped – COM or selected from Spirit Fabric Collection
Acrylic Frosted
Colored Cork – American & European
Dry erase
Edge
Square
Radiused
Beveled
Fabric Molding Band
Fabrics
Use your own or select one from our many options
Guilford of Maine – Complete Line
COM fabrics welcome, even complex fabrics, fabrics subject to approval
Vertical Wing Brackets (VWB)
This Divider is installed by means of a 3" wide piece of finished steel that extends vertically above the work surface anywhere from 10 to 24", depending on Divider Height. The Divider Panel has built in vertical sleeves to conceal the VWB. The number of VWB's per Divider panel is based on panel width. The VWB can be attached below the work surface or on top of the work surface.
VWB sizes – 3 strengths
Standard Duty – 3"w x 10"h x 1/8" (for Dividers 11" to 16" high)
Item # – VWBSD
Medium Duty – 3"w x 15"h x 1/8" (for Dividers 16" to 21" )
Item # – VWBMB
Heavy Duty –  5"w x 24"h x 1/4"
Item # – VWBHD